Almost all little girls dream of having their very own playhouse. Of course, this is not always feasible as they don't come cheap, but fortunately for you, you do not have to spend a single penny to give your child the dollhouse of their dreams.
The My PlayHome app for kids gives your baby the most magical dollhouse. Imagine them being able to have closets, have a TV, a shower, be able to fry an egg, and even feed their make-believe families with pizza. These are some of the features you can find on this app.
Your kid will be able to pour drinks, turn out the lights, and even blow bubbles. To make the deal even sweeter, the app grows over time with new additions and accessories and rooms for them to discover all the time. Read on to learn more about this.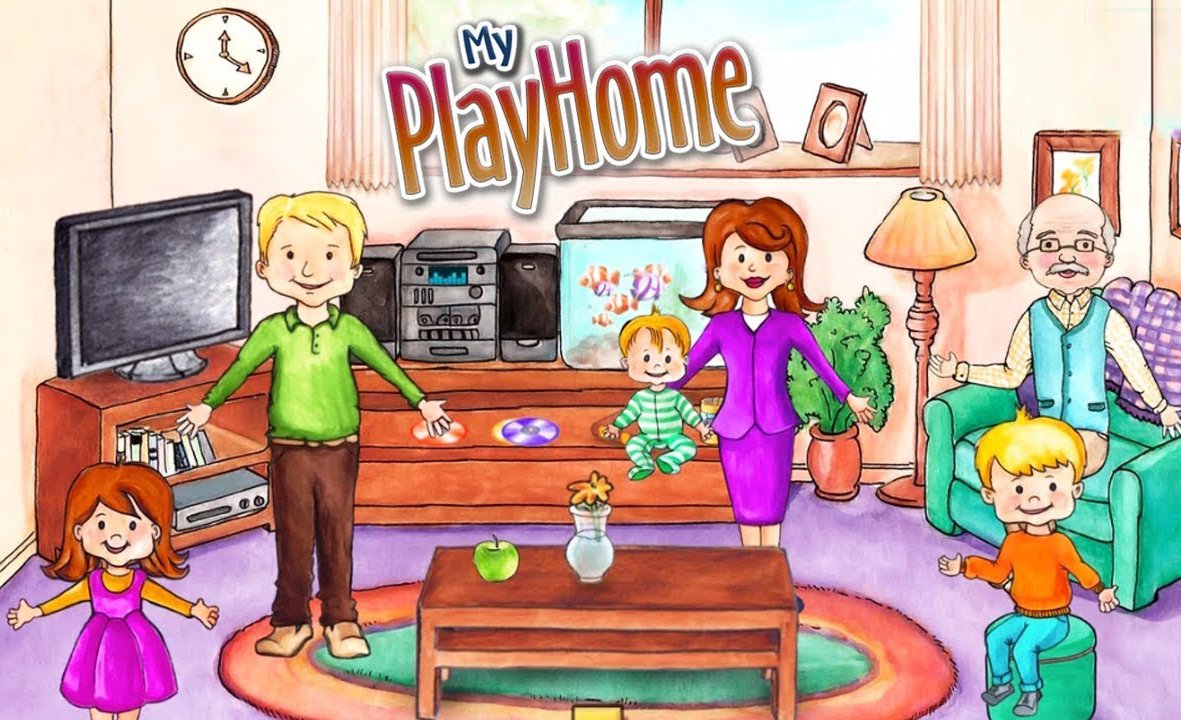 What You Need to Know About the App (For Parents)
Parents should know that this is a highly interactive app, and it is a dollhouse-styled app for kids. Your child can choose up to 5 family members. These characters, include dads, moms, girls, boys, and babies.
Your child can actually add up to 15 characters with each of them having a different hairstyle and outfit into their homes. This allows some flexibility in creating different varieties of family types. They can also create mixed-race families with one or two kids.
Family members usually hang out in the living rooms listening to some music. This music can be chosen by your baby, and there are various varieties. The virtual kids on the app can also jump up and down on the bed, and build blocks in the bedroom.
They also can play with the swings that are placed in the garden. You can also have dolls for the girl babies who can hold on to things, such as an apple, and a toothbrush. The house stays the same and looks very real, until your kid exits.
Is it a Good App?
Well, by the description we have already outlined above, you can already guess that this is a fan favorite with kids. If you have little girls you can already tell that they will probably enjoy this app.
The fact that it looks like a real dollhouse, and additionally enables them to do the things they have always wanted to do for real, such as cooking and playing, makes it even more appealing to them.
Kids are allowed to follow their imaginations and do whatever they want on the app. There is also plenty of replay value as they keep discovering new things they can add on to the playhouse and interact with.
What Should You Teach Your Kids with This App?
So, in this day and age, it is important to try and teach your kids valuable lessons with everything they do. This is your way of keeping them informed even while they are at home.
You can sit with them while they are playing and ask them open-ended questions about families and the characters they are creating. Teach them about race, and how families are supposed to be structured and the roles of family members.
Help your child to compare and contrast what is happening in the dollhouse with their home and other families they know. Talk to your child about how to expose their characters in the dollhouse to different things such as vocabularies, playing instruments, etc.
More Details About the App
You can download on iPhones, Android, Kindle Fire, iPads, Windows, etc. The app costs $2.99 on Amazon and $3.99 on iTunes, and it takes up 259 MB. The minimum software requirements for this app is iOS 8.0, and it's last update was April 16, 2019.
Conclusion
This is a great app for your child, especially when they are bored at home. But, with the different lessons being taught on the app, you can make it a family affair, where you all come up with different ideas with your little one.